AcrylXTM
AcrylXTM is an applied acrylic glossy white finish that delivers beautiful bathware products.
AcrylXTM Makes Great Products Even Better!
Introducing AcrylXTM, a superior quality, applied acrylic finish, that shines a brighter white and is tougher than standard gelcoat products. AcrylXTM is now used by AKER for application on all its products.
AcrylXTM Offers Superior Strength and Durability − at no Additional Cost
A truer, brighter, white finish than gelcoat
AcrylXTM has a visibly truer white color due to it's applied acrylic finish, which makes it shine brighter and glossier than gelcoat. Plus, the material's UV resistant properties means the white won't fade over time.
A durable finish that delights customers
The AcrylXTM finish is applied through a patent-pending process that produces a stronger finish built to withstand scratches, chips and cracking, as well as being less porous, which creates an easier to clean surface.
Added value you can trust
The AcrylXTM finish is another way AKER brings you and your customers real value. This product improvement will not increase unit cost and there are no SKU changes; it simply means better business for you everyday.
The Best Bathware Guarantee in the Industry!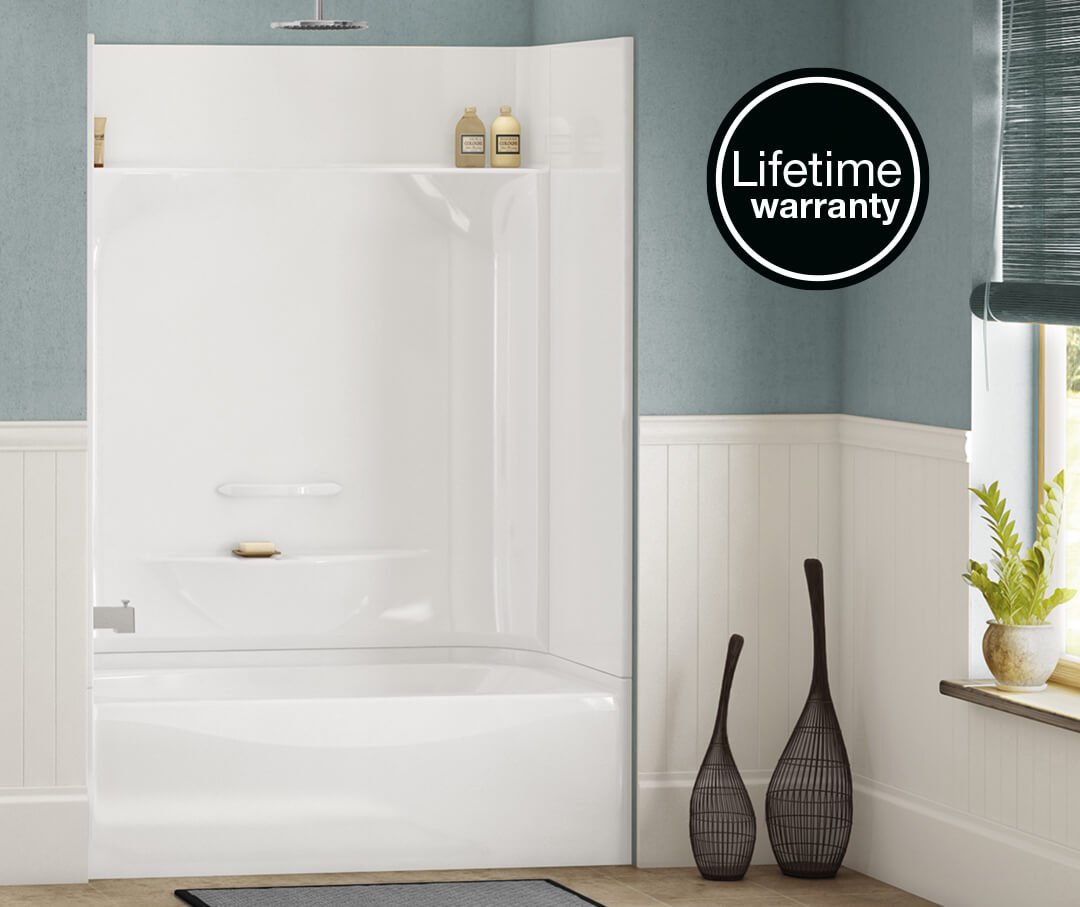 A Lifetime Residential Warranty!
Your customers will enjoy AcrylXTM finished AKER products for years! With AcrylX'sTM superior applied acrylic finish, products are more resistant and its less porous surface makes it less susceptible to degradation from chemicals. AcrylX'sTM patent-pending solution provides a long lasting "factory-new" look with durable strength that lasts, and is backed by a lifetime warranty for residential use and a 30 year warranty for commercial use.
see complete warranty details
The Combined Strength of AKER and AcrylXTM means Building a Better Bathware Industry
A Better AKER Solution
All AKER products are now made using the superior AcrylXTM finish. Gelcoat products are no longer being manufactured by AKER.
AcrylXTM is Easy to Repair
AcrylXTM applied acrylic finish is easy to repair and be restore to its original factory glossy, finish condition.
Strength − Inside and Out
With AcrylX™ surface and the Resin8™ enhanced resin formula, AKER products delivery from every angle.
Better Value & More Sales
The transition to AcrylXTM finished products does not increase the price of AKER products. In addition, it provides a premium look that can only be achieved with an acrylic surface and is sure to win you more customers.
Get the Complete AcrylXTM FAQ Guide
Download the complete FAQ list to get all the details on this revolutionary new product feature improvement to the AKER product line.