Full Strength Approach
AKER is a true partner for all your bathware needs. Through our many years of manufacturing experience and by supporting our "Full Strength Approach" we stand by our proven track record and so can you.
Performance from Every Angle
Quality Materials
We hand roll the resin laminate, and we don't skimp on the mix. You'll find no exposed strands, uneven surfaces, air bubbles or cracks here. We'll continue to invest more in our mix - today, and years from now.
AcrylXTM Durable Superior Finish
AcrylXTM is a superior quality applied acrylic finish that shines a brighter white than standard gelcoat products. It is applied through a process that produces a stronger finish built to withstand scratches, chips and cracking.
Resin8TM Reinforcing Layers
Resin8TM is a new resin formula that provides enhanced core strength and flexibility to products. On AKER units, it saturates the fiberglass strands around reinforcement materials and locks them together to build the base structure.
Beauty that's built for Life. We make life-proof bathware that withstands the construction process and the test of time.
Innovation for a Flawless Install
The One Piece Look
Our multi-piece solutions have been designed so one person can easily navigate doorways, hallways and even winding staircases, but that doesn't mean you have to sacrifice on style. We've created vertical and horizontal offsets to better integrate the seams. Joints between the back wall and side walls are moved to the side, reducing visibility of the seam.
Forget Wet-setting
Our pre-leveled Anti-Flex Base System makes wet-setting a thing of the past and results in quicker and easier installation. No need to fill the space between the floor and the base with concrete or any other material, meaning you will save time and money on the job site.
A Secure Fit Every Time
Our enhanced, patented front installation PIN system was designed with the installer in mind. Used in our KDS series, this time- and money-saving solution eliminates the need for rear access. And pins are made of sturdier material for a tighter fit between the parts.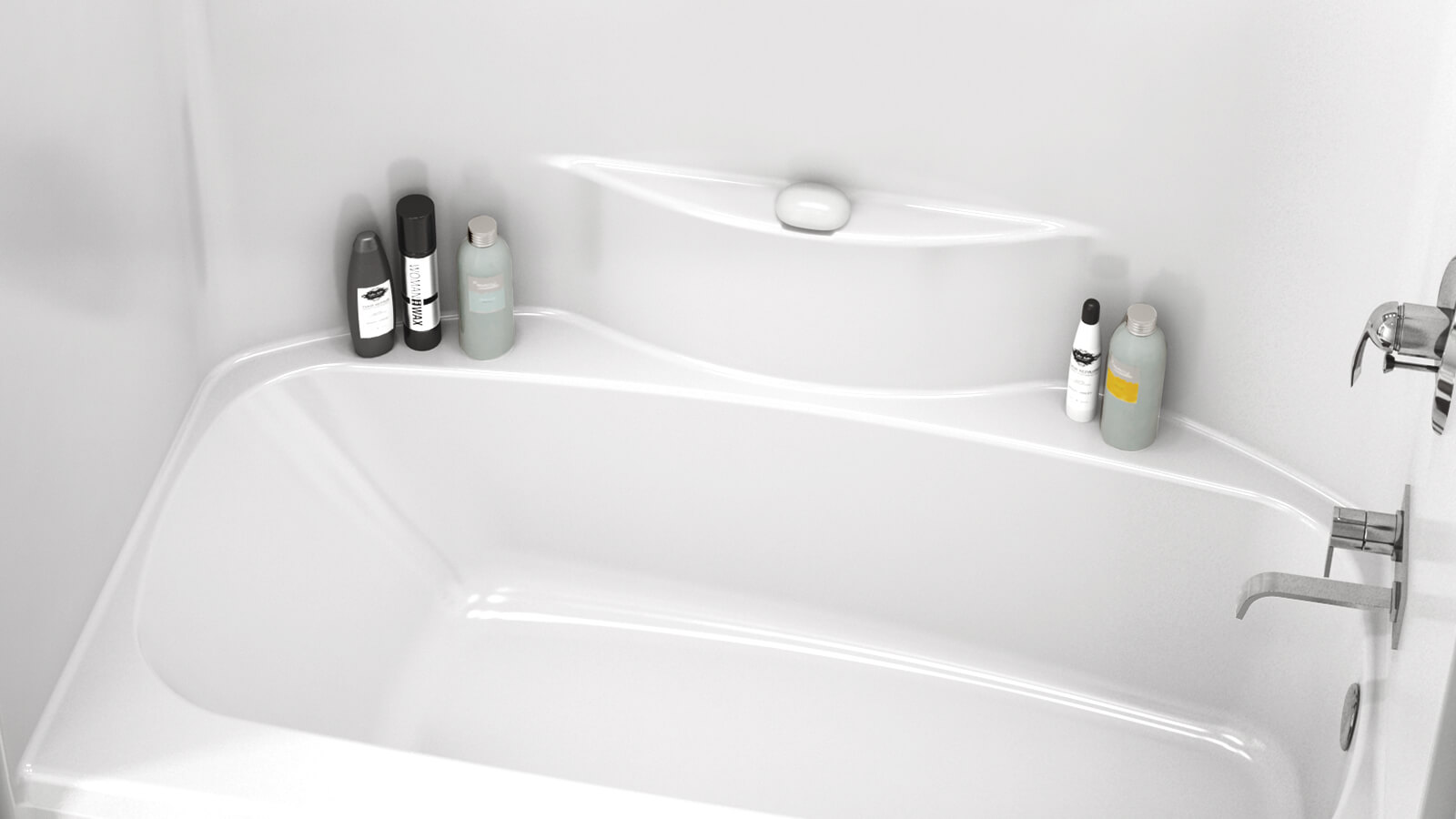 Strong, High Gloss Products made with AcrylXTM
Our products are made using AcrylXTM, a superior acrylic finish that shines a brighter white than traditional gelcoat, and they are reinforced with a superior laminating process that includes our enhanced Resin8TM formula – producing strong, lightweight, beautiful units. Our AcrylXTM products now offer exceptional brilliance, better durability and a factory-new look that lasts. They are easy to clean, easy to repair and backed by a lifetime warranty!
Learn More About Acrylx
AKER Operations & Opportunities
AKER by MAAX is a proud member of the American Bath Group family and operates an extensive distribution network throughout the Eastern United States. If you are interested in joining a team that focuses on quality and getting the job done right, apply today or discover current job opportunities.
Certifications & Compliance
Certifications
All AKER products adhere to one or more of the following certifications: UL and ICC. However, it is the responsibility of the plumber to ensure that local requirements are respected.
Compliance*
All AKER Outlook plus code compliant models are tested to meet major accessibility building codes when fully equipped and installed according to guidelines.
Warranty
AKER stands behind its products with 5 year warranties against structural, surface and cosmetic defects. For complete details please refer to our warranty details page.